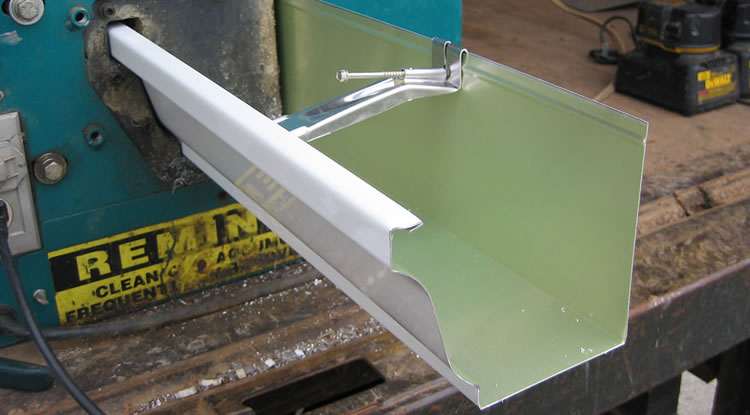 Many Homeowners probably didn't even know there was such a thing as different sized gutters and we'd venture a little further to say that many more homeowers probably don't know the size of the gutters on their home anyway!  It's an important detail to know, one that makes a big difference in the performance of your gutter system.
We'll explain the differences between the two most common gutter sizes presented to homeowners which are 5″ gutters and 6″ gutters.  We will also share some tips and information about what you need to consider when replacing your gutters due to age or damage or maybe you want to install new gutters on a home or building under construction?
If you're doing a new gutter installation project then do it once and do it right from the start and this article will help you feel confident with that decision.
What Is Your Gutter Systems Job?
We know this might be obvious… But we'll go over it for those who might be new homeowners and not familiar with these systems.  The job of any gutter system is to channel all of the rain water from your roof down into the appropriate drainage system so you don't flood out your foundation or your property.  If the gutter systems job is to move water, then you can imagine that the larger the gutter is the more water it will move!
Should I Choose a 5″ or 6″ Gutter For My Home?
A good gutter contractor can look at your roofline (and measure it) to get a good rough idea of the "square" of your roof (this is how roofers measure a roofs surface area).  With this knowledge, we can calculate roughly how much water would need to be channeled away after a storm.  Using other data available to us we can see the average rainfall in our area, so we know can design and install gutter systems that don't fail.
There are many things to consider when it comes to choosing the right size gutter and as a general rule of thumb a 5″ gutter is usually acceptable for most residential applications.  If you have a very large, steep pitch roof and you live in an area where an above average amount of rain falls then a 6″ gutter might be a better choice.
If you want the best performance from your gutters and have a larger roof area then 6″ gutters along with the larger 3″x 4″ leaders (downspouts) are able to handle approximately 50% more water than a regular 5″ gutter.  This further decreases the chance for overflow of your gutter even during the hardest of windblown downpours.
So How Do You Actually Calculate The Required Gutter Size?
There is actually quite a bit of mathematics and science that goes into calculating the correct sizing for your gutters.  The first step is to find the total square footage of the drainage area from your roof.  For the most basic, gabled-ended roof with two sides and no dormers or additional stories you only need to make two calculations (length x width), one for each side of the roof (or slope).  As a roof becomes more complex with dormers, hip roofs and sections where roof might intersect with another part of the building the calculation becomes much more complex!  You need to add up the surface area of all the "shapes" to come up with a total square footage.
As a roof becomes more complex with dormers, hip roofs and sections where roof might intersect with another part of the building the calculation becomes much more complex!  You need to add up the surface area of all the "shapes" to come up with a total square footage of the roof surface.
Once you or your gutter contractor know the total square footage of drainage required for each gutter, you'll need to adjust your calculation for the following two factors:
#1 The Roof Pitch
As a roof's pitch gets steeper, it can catch and collect a lot more of the windblown rain, this increases the stress on your gutter system.  Roof pitch is usually measured using a level and a tape measure.  If you don't feel comfortable climbing up on your roof to do this, it's best to call a professional gutter contractor like LIK Gutters as we can come out and quickly get these measurements and then answer any questions you might have about installing gutters on your home.
#2. What Is The Maximum Rainfall Intensity In Your Area?
Most homeowners do not know that the U.S. Weather Bureau actually has records of the maximum rainfall that has happened in a 5-minute period, in inches per hour, for various regions all around the country including New York and New Jersey.  This critical piece of data really helps us make the right determination in gutter sizing, so you're not being upsold on something you don't really need.  The higher the amount of maximum rainfall in your area and the bigger and steeper your roof is, the bigger your gutter will need to be!
Don't Forget About The Downspout Size!
Before getting caught up in sales pitches about which gutter size is best for your home you need to make sure you are sizing the gutters correctly for your downspouts.  If new downspouts are being installed with your gutters make sure your gutter contractor is calculating their size based on the maximum amount of rainfall your area experiences.
Gutters are only meant to channel the water away from your roof and into your downspouts.  It's the downspouts that channel that water into your drain tiles and away from your home and foundation so the more water they can handle the better.
Why Choose L.I.K. Seamless Gutter Co Inc. To Install Your 5″ or 6″ Seamless Gutter System?
When you choose L.I.K. Seamless Gutter Co. to install the seamless gutter system on your home you are partnering with a local family run business that has been successfully operating for over 40 years.  Now being run by the 2nd generation, the Vasilik brothers are true craftsman who put great thought and care into every single seamless gutter system we install for our customers.
You can count on receiving a quality product, installed by a small and dedicated team of craftsman who will leave nothing behind but what we've promised you.  Your new seamless gutter system will carry a warranty and you'll have the peace of mind knowing that we're going to be around to service it should you ever need us again.
If you'd like to request an estimate to have seamless gutters installed on your home please give us a call or fill out our contact form and someone will be getting right back to you.