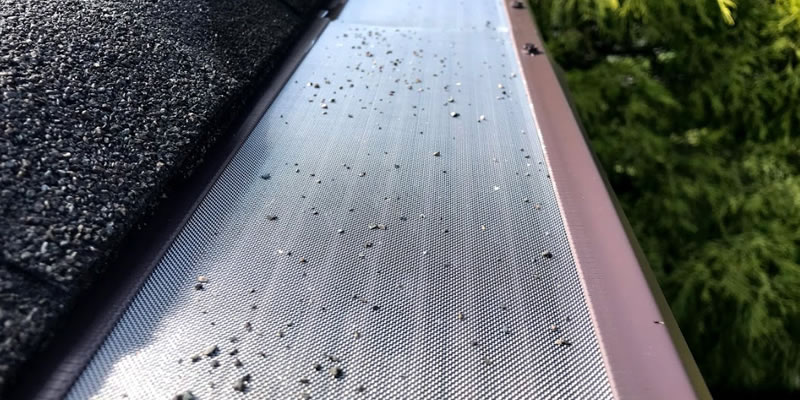 Everything You Need To Know About Gutter Covers
Cleaning your gutters is an unfortunate reality of owning a home or building.  Depending on where you're located and how many trees surround your home you might find yourself having to clean your gutters multiple times per year.  If you don't have the equipment, time, or energy, you'll have to hire someone at a cost of a $100 – $200 each time you want them cleaned.  Unless you do something about it you'll be cleaning them or hiring someone to clean them for many more years.
Your gutters aren't something you can ignore either, without a free flowing gutter system clear of clogs and debris the water from your roof will overflow from your gutters and cause all kinds of problems around your property.  Clogged gutters can contribute to foundation problems, water leaks inside your home, flooded areas of sitting water on your property, peeling exterior paint, rot, and more.   If you're looking to reduce your home maintenance tasks and gain some peace-of-mind at the same time then good quality gutter covers are the answer.
L.I.K. Seamless Gutters Co. Inc has been in the gutter business for more then 40 years.  Over many years of manufacturing and installing gutters on our clients homes and buildings we've watched homeowners experience many challenges with their gutter systems and many of them could have been easily solved with a high-quality gutter covering system.
Some gutter cover systems have taken flak in the past about their effectiveness, with many of the earlier or poorly designed gutter covers still requiring just as much maintenance as their uncovered counterparts and homeowners still having to go up and clean them regularly.  We have enough rain gutter knowledge and experience to know which gutter cover systems are actually worth spending your money on and which ones we'd probably avoid.
So How Do Gutter Covers Work?
They are simply covers that are fastened to your gutter that block out the leaves and debris from entering your gutter and drainage system.  The best gutter covers are usually made out of aluminum or stainless steel, it's a good idea to avoid the plastic ones you'll find in many hardware stores.
Well designed gutter covers are extremely effective at blocking out all of the debris from your gutters aside from the water.  There are some gutter cover systems that work so well they can even filter out the roofing granules from your shingles so they don't fill your gutters or downspouts with sand.
What Types Of Gutter Covers Are There?
There are dozens and dozens of gutter cover products on the market and some work great but others don't work as well.  There are gutter covers that are also more suited to specific applications than others so it's best to take a look at a clients home or building before recommending the best product.
At L.I.K. Seamless Gutters we install a couple different types of gutter covers that can match with most homeowners budget and design taste.  If we are replacing your gutters then we can install leaf protection at the same time or separately if you already have proper gutters installed.
Aluminum Drop-in Gutter Protection Screen. If you want affordable but still effective gutter protection then this is product for you.  The aluminum drop-in gutter screen is installed underneath your first row of shingles and then it's securely fastened with screws to the top lip of your gutter.  While gutter screens are very effective at keeping larger debris out of your gutter such as leaves and sticks they can still collect the fine shingle granules.  While gutter screens like these offer good protection and will reduce your cleaning needs we still recommend you inspect them once or twice per year just to make sure they aren't clogging with sand or other smaller debris.  Maintaining this type of gutter cover is fairly easy as you only need to run a stiff brush along them once or twice per year or if you see any build-up.
Micro Mesh Aluminum Gutter Protection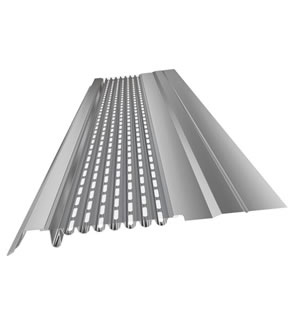 Micro mesh is becoming a popular gutter material because of it's sleek appearance and ultra high performance.  Available in 20 different colors to suit all home exteriors, the micro mesh system is built using stainless steel for longevity.  The micro meshes unique pattern works to keep everything out of your gutters.  In the photo below you'll see it can even stop the smaller shingle granules from entering your gutters and drainage system but all of the water still pours through.
High Quality Gutter "Lifetime" Gutter Covers
The highest quality gutter covers we install are a patented product with many years of trouble-free and reliable service under it's belt.  It's more expensive than your standard gutter drop-in but it's also quite a bit more durable and engineered for specific applications.
For example we can install gutter covers that are designed to catch different types of debris depending on the type of trees you have surrounding your home.  If you have a lot of leafy deciduous trees we have a specific product for that.  If you have a lot of pine trees around your home then we have another gutter cover option designed to work better at keeping pine needles out of your gutter.
Which Option Is Best For You?
That answer is best determined by your budget.  The most affordable option is the drop-in gutter screens.  They work well at keeping out the larger debris but they will eventually need to be cleaned of the smaller debris that will make it's way through the screen.
The more expensive option, but arguably one of the best all around solutions, is the micro-mesh gutter screens.  These are very effective at keeping out almost all of the debris from entering your gutter while still allowing all the water to flow freely.  If you have a larger home or building with extensive roof edges then the micro-mesh are probably a better option because they'll reduce your maintenance requirements significantly.
If you simply want the best of the best of gutter covers for your home than our premium quality patented product is probably the best choice for you.
How Long Does It Take To Install Gutter Covers?
We can usually complete a gutter cover installation in just one day, sometimes as little as a few hours, it depends on the size of your home, the condition of your existing gutters, what type of gutters you have, and what condition your roof is in.  The typical cover installation can be as little as a few hours to a full day or some cases (like large multi-level homes) a couple of days.
When it comes to having gutter covers installed, you don't need to be in hurry.  They should be installed correctly, to the manufacturers specific recommendations.  This ensures you're getting the full durability, function, and any warranty that might be provided with the gutter covers.
How Much Do Gutter Covers Cost To Install?
Gutter covers can cost anywhere from $7.00 – $12.00 per lineal foot to install.  On the average home your final cost will be anywhere from $1250 up to $4000+ but this is going to depend on the specific product used, if there are any optional material finishes (colors), and any extra labor or even home repairs required if your existing gutters are in bad shape.  Our gutter cover estimates include the gutter covers, high-quality fasteners, and proper installation.
We offer 3 different grades of gutter covers including a good choice, better choice, and the best choice.  We have experience with these particular products and we know they are durable enough for our weather and they do a great job for our clients.
The cost can vary from project to project for a variety of reasons so if you want an accurate to the cent estimate for your home or building it's best to call us or fill out our online contact form schedule an estimate for your gutter covers.
Is the Cost of Gutter Covers Worth It?
Gutter covers might not seem like the best investment initially, they aren't really the the most sexy home improvement, but they do make a big impact in two areas.
#1.  They will help you free up time or money if you hire someone to do it.
#2.  They will help to protect your home from water runoff due to clogged gutters.
If you're a diligent homeowner and you clean your gutters out yourself once or twice per year (maybe more) you're spending at least an hour or two, maybe three, every time you do it.  If a good quality gutter cover can reduce that maintenance down to nothing or maybe 30 minutes once a year to inspect them, who wouldn't want to do that?  Getting out the ladder, some gloves, and some buckets, climbing up and down, scooping, re-positioning the ladder, takes you away from doing something you might enjoy.
Hiring someone to clean your gutters is always a great option if you don't have the time or ability, but if you're paying someone to clean your gutters once or twice per year you're spending at least $300-$500 per year on gutter cleaning already.  With that size expense your cost savings with gutter protection would be realized within a 3-5 years.  Since they are built out of stainless steel or aluminum, high-quality gutter covers are going to last a lifetime without rusting, rotting, or deteriorating.
As a homeowner protecting your home and keeping your family safe should be your number one priority.  If the next storm rolls in and your gutters are clogged up and not functioning you're either going to get wet climbing around on your roof trying to clean them or you're going to ignore it.  Ignoring a clogged gutter could potentially cause thousands of dollars in damage if left unchecked for a long time.
Gutter covers will certainly cut your gutter cleaning requirements down significantly and even right down to almost nothing if you choose the premium product.  While it's awesome to greatly reduce the amount of times you should clean your gutters, we still recommend cleaning your gutters at least once every 2 years and inspecting the system at least once a year.
The Importance Of High Quality Fasteners
When having gutter covers installed on your home or building one of the most important details is how they will be fastened to your existing gutters.  Because your gutter covers are exposed to the elements you want to make sure the installers use the highest quality stainless steel fasteners to they will not rust or corrode.  We've repaired or replaced many gutters and gutter cover systems that were installed by someone else and failed within just a few short years.  In many of those cases poor quality fasteners were part of their problem.
How Do You Maintain Your Gutter Covers?
Most gutter covers require very little maintenance.  Depending on the product it might not totally eliminate your need for maintenance but it will be greatly reduced.  Instead of cleaning your gutters once or twice a year you might only have to clean them once every two or three years.  It's still never a good idea to just totally ignore them though!  We recommend inspecting your gutters at least once annually just to make sure nothing has clogged, a big branch or stick hasn't caused damage, and that there isn't an excessive amount of debris on top of the gutter cover (encouraging water to overflow).
Looking For Gutter Cover Installers Near Me?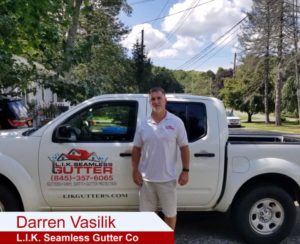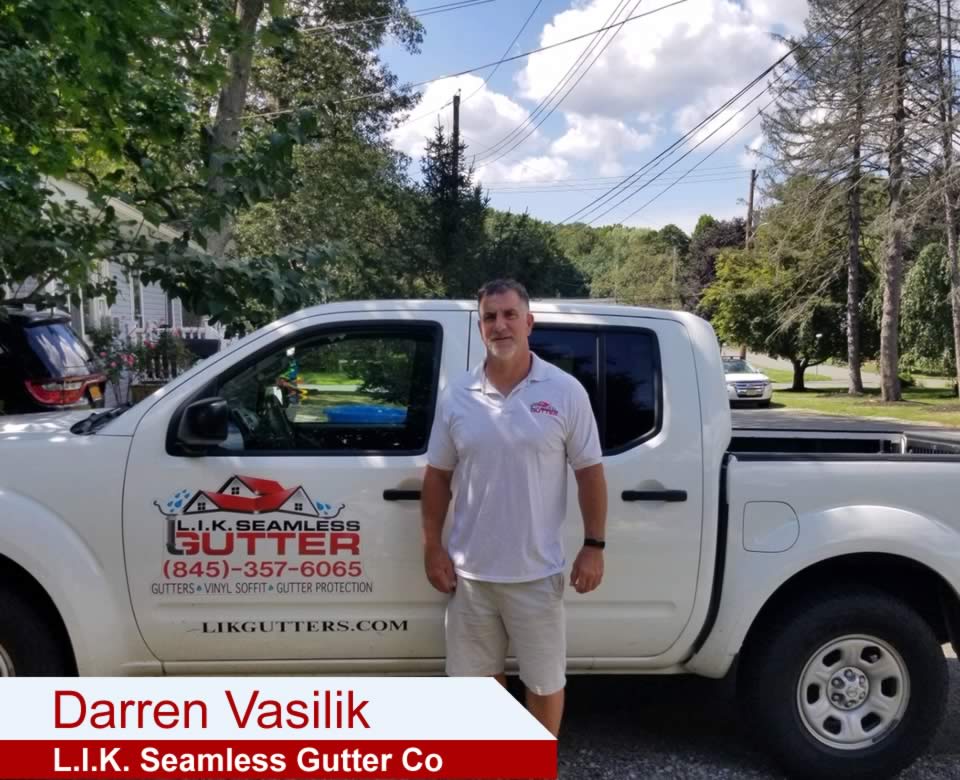 L.I.K. Seamless Gutter Co. Inc.  serves Westchester County NY, Rockland County NY, and Bergen County NJ.  We installsgutter covers & gutter protection systems including drop-in aluminum gutter screens, micro mesh gutter covers, and a high-quality patented gutter cover system that is tailored to specific applications.   Whichever method works best for you will be installed with attention and care by our team of rain gutter professionals.
If you'd like to schedule an estimate for gutter covers and gutter protection to be installed on your home please give us a call at: 845-782-7675  or fill out our online contact form and we'll get right back to you.