Gutter Installations and Repairs in New York and New Jersey
L.I.K. Seamless Gutter Co. Inc has been in business in New York and Bergen County, New Jersey for over 40 years.  Now, the second generation of craftsman provide personal, professional, and affordable gutter installations throughout Rockland, Orange & Westchester Counties, New York and Bergen County New Jersey.
We know you have many choices when it comes to hiring a seamless gutter installation company or home improvement business to perform work on your home.
That's why we work hard every day to earn your trust and future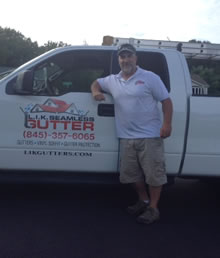 recommendations to others on our expert gutter installation service.

Read What L.I.K. Gutter Customers Have To Say...
"L.I.K. gave us an appointment very shortly when we first contacted them and they arrived right when we expected them. They did the job quickly & professionally and there was no hidden extra cost. We liked them enough to have them back to do our rental property " Frank Hoens  Goshen  NY
"LIK did a small job for me and gave it the attention and care you wold expect on a much larger project. Also Darren made a trip back to fix a very minor concern I had. If he took the time and effort on my small job he deserves all the good reviews I read on his website." Tom Depace Tuxedo NY
"Darren of L.I.K completed the installation of half round gutters for our ongoing renovation. I am very pleased with the outcome. The entire process went smoothly…on time and budget. A quality install! I would recommend L.I.K. and look forward to having them back when the renovation progresses." Kevin S Sugarloaf NY
"L.I.K. seamless gutters did a fabulous job on my house, and highly recommend them. Quick response, immaculate work, and professionalism. Darren returned my call promptly, scheduled appointment-completed work quickly. It was a pleasure to do business with them!!!!!!" Kathleen B, Monroe NY
"If you are looking for a company that calls when they say they will, shows up when they say they will, does a professional job, cleans up, and has a pleasant approachable way of doing business – hire this company!!!" Barbara S. Nanuet NY
"Darren came on time and was very meticulous about all aspects of the work. We needed to replace 20 year old system of gutters and leaders. He provided very valuable advice and also was very honest with us with regards to few round areas that were in good shape and didn't need very costly repair. His price was fair and his  performance was exceptional!
We needed to make few adjustments and additional repairs after he finished. He came back and did these as well, even though it was relatively small job. I cannot thank him enough for the work and will hire him in the future or recommend him to my friends. Highly professional and honest individual!
The work was done within one day, he and his crew came on time, and had all materials ready. I wasn't even home when they finished, but the work was done exceptionally good and there was no need to "babysit" them.
After the work was done Darren did few extra repairs and he was very fair with his pricing and timing. Quality work and very pleasant experience." Olga Sergatchov, Monsey NY
"Great work at a fair price. Darren is professional, honest, and can be trusted to provide sound advice and high quality work. Will definitely use L.I.K. again." Charles S. Mamaroneck  NY
"They came as scheduled. Did the work within a couple of hours, cleaned up and charged exactly the estimate.  The gutters look great.  Also they were able to do the estimate remotely using photos and google maps.  Very efficient." Rebecca B. Montrose NY
"It was a very pleasurable experience having my soffits and gutters redone on my home by Darren and his crew from LIK. They are polite, neat, and most of all very professional.  Darren explained to me when he first looked at my house  that both he and his brother who have been doing for most of their lives will be the ones performing the work. That's basically all I needed to hear and was convinced that they would be the company I would hire.  I couldn't be happier with my decision.  I highly recommend LIK." Kristin W.  New City NY
"I've used LIK in the past and find them to be one of the most professional companies in the hudson valley. They come when promised, and finish the job to total satisfaction". Thomas L. Monroe NY
"I was very pleased with the level of service that I received from L.I.K Seamless Gutters. Darren is very professional, trustworthy and reliable. I had copper gutters installed a week ago. His prices were not the cheapest i received but his experience made me overlook the few dollar difference.  I would highly recommend him. My neighbor was so impressed with his work. She hired him to do her gutters as well." John H  Monroe NY
"Darren's company installed gutters on my entire house which is actually built into a hill and on a cliff. He and his crew also removed old gutters which were placed on the wrong areas of the roof line. The job went smoothly. Darren came out for an estimate and within a week the job was complete. This was important because my home is on the market and I wanted it to be in perfect condition. He had a professional crew of men who worked non-stop until the job was done. I have to mention that he came with a well-trained Labrador retriever who won me over!" Pat S. Blooming Grove NY
"We received a return phone call a few hours after we filled out an inquiry on the LIK gutter website and Darren was able to meet with us for an estimate 2 days later. We were able to schedule the new gutters and leaders the week of my vacation. The night before our scheduled date I received a confirmation email from Darren with an exact time they would be arriving. Darren, his brother, and one other nice gentleman arrived at my home right on schedule and completed the job in a just a few hours. They left my home cleaner than when they arrived. I highly recommend. Very professional." Timothy F. Montebello NY
"Darren and his staff at L.I.K. Gutters were very professional and did a great job installing the gutters on our home. Darren visited our home and gave us a quote the same day. My husband was unable to be here the first time and had a few questions.  Darren stopped back over the weekend to answer my husbands questions.  The crew arrived the day we scheduled, were professional and friendly and were finished before mid-day.  I would highly recommend L.I.K. Gutters". Jacque K.  Warwick NY
"Darren is great! he came by right after i contacted him  for my project with a really cool dog…….He got right back to me with a price and installed them exactly when he said he would. I used to be a contractor and in my business i deal with many contractors every day, Darren is top notch!" John Ruel.  Tuxedo Park NY
"Darren and his crew were efficient and neat. They came out promptly and got the job done. All old materials were taken away and Darren was very professional . I was impressed and satisfied with the job" Cindy R. Warwick NY
"Very professional. Very fast. Job well done. I use to be in construction years ago. Would have liked a crew like them to work along side." Neil W. Monroe NY
"We are totally pleased with work. Contractor was punctual, professional and helpful. Highly recommend." Martin W.  Monroe NY
Let's Schedule Your Estimate!
Give us a call or fill out our online contact form and we'll get back to you quickly to schedule a date and time for your consultation.